Local young artists recognised in the University of Oxford's science-inspired art competition

Wednesday 21st Jun 2023, 9.37am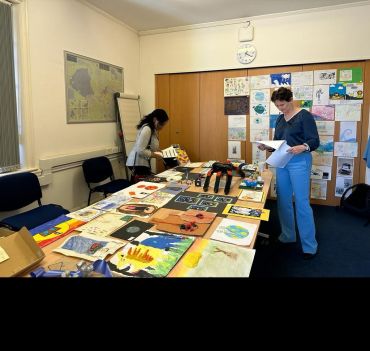 Established in 2018, the competition ran for the third time this year, attracting over 170 entries from schools across Oxfordshire. It aims to highlight the work of Black, Asian, and Minority Ethnic scientists and mathematicians, while also engaging local schools and young people in showcasing the researchers' work in art form.
Oxfordshire state school students in Years 5, 6, 7 and 8 were asked to create art inspired by research from scientists from ethnic backgrounds currently underrepresented in scientific research. Students chose one of six scientists and created an artistic response to their research (painting, drawing, sculpture, animation, and poetry) along with a short statement explaining the artwork. Students got to choose researchers whose work ranged from the study of bacteria to understand how they might become resistant to drugs like antibiotics, to a Tidal Engineer seeking to create a more sustainable world by using energy from sea tides.
Winners were chosen for each year group by a panel of judges including:
Dr Tanesha Allen, previous Beyond Boundaries Researcher
Neill Cameron, UK-based comics writer and illustrator Neill Cameron, creator of the Mega Robo Bros graphic novel series, author of the Awesome Robot Chronicles novel series, and regular contributor to UK weekly children's comic The Phoenix
Sara Lowes, Head of Communities, Practice & Participation at Modern Art Oxford
Professor Irene Tracey, Vice-Chancellor at the University of Oxford. 
Winners will receive £100, runners up £50, and Vice-Chancellor commendations £25, as well as having their work displayed in the forthcoming Beyond Boundaries exhibition at the Oxford University Museum of Natural History, open to the public, with free admission, from 30 June – 3 July 2023.
This year's submissions were rich in variety, ranging from drawings and sculptures to digital animations. The standard of entries was so high that the University's Vice-Chancellor decided to include an additional category for each year group as a Vice-Chancellor's Special Commendation.
Winners included:
YEAR 5 WINNER
Grace Bruce, Year 5, St Swithun's CE Primary School, artwork titled 'The Fight of Abject Antimicrobial Resistance', inspired by Chinenye Akpulu.
YEAR 6 WINNER
Jacob Humphries-Orme, Year 6, St Swithun's CE Primary School, artwork titled 'Chy Challenges Bacteria', inspired by Chinenye Akpulu's research.
YEAR 7 WINNER
Anna Lai, Year 7, The Cherwell School, artwork titled 'Safeguarding Lions from Human Encroachment', inspired by Lauren Rudd's research.
YEAR 8 WINNER
Meg Hawkins, Year 8, Wheatley Park School, artwork titled 'Connection', inspired by Morgan Mitchell's research.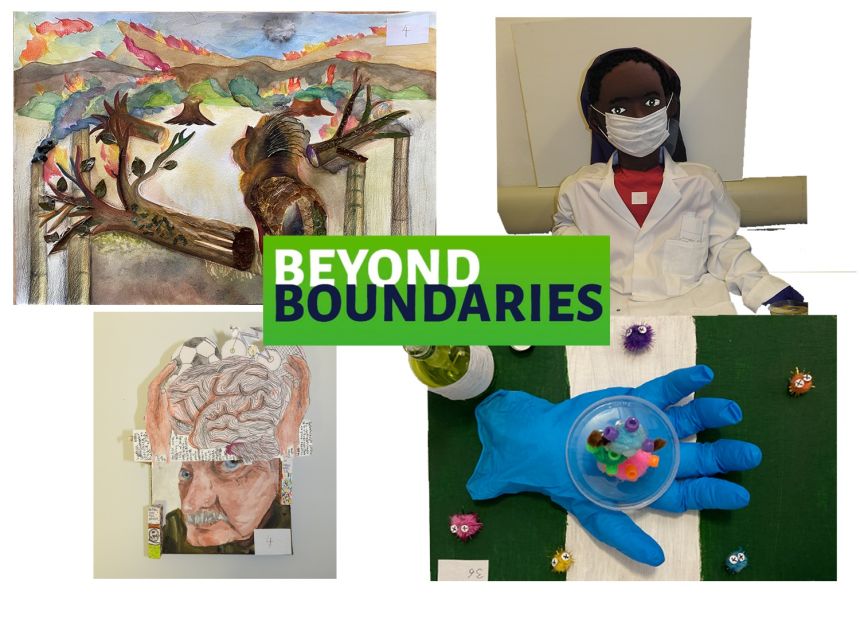 Year 7 winner Anna Lai's family said: 'Anna's artwork aspires to arouse public awareness to safeguard the lovely lions and our mother earth. Our entire family is truly over the moon about this meaningful Award.' 
'I am so impressed with all these budding artists and scientists,' commented Professor Irene Tracey, Vice-Chancellor for the University of Oxford. 'I really hope this competition has stimulated your curiosity for science! Congratulations to all the winners and runners-up, a huge thank you to all the children for participating, and to the team for organising.'
It is heartwarming to see so many local young people engage in this opportunity to translate exciting science into artistic form and be inspired by a diverse range of scientific role models. Art and science are not mutually exclusive – creativity is crucial for both

Daisy Hung, Head of Equality, Diversity and Inclusion for the Mathematical, Physical and Life Sciences Division at Oxford University.
Tanesha Allen, a former Oxford University researcher featured in the first Beyond Boundaries competition, and one of this year's judges, said: 'As a researcher from the inaugural 2018 competition, it's been fascinating to watch this competition grow over the years. The artwork this year was impressive, so making a final decision was difficult. Alongside the Vice-Chancellor's comments, I would also like to thank the teachers, parents, guardians, and other community members who supported the children in this artistic endeavour.'
Comics writer and illustrator Neill Cameron, another judge, said: 'As an artist and the son of an Oxford mathematician I'm in favour of anything that seeks to form connections and bridge gaps; between the sciences and the arts, and also between Oxford University and the communities that surround it. As such, I was honoured and delighted to be part of this project which celebrates both the work of brilliant Oxford scientists from backgrounds all over the world and the incredible imaginations and creativity of children here in the city.'
Full details of the Beyond Boundaries project, and artwork from the 2018, 2020 and 2023 competitions can be viewed on the Oxford Sparks website.