Uchenna Gwacham-Anisiobi
Maternal and Newborn Health Researcher & Oxford Sparks Ambassador
Hi, my name is Uchenna. I am second year DPhil (PhD) student at the Population Health Department, University of Oxford. I was born and raised in Nigeria and I was fortunate to grow alongside seven wonderful siblings. Being one of the older siblings in my nuclear family and one of the older cousins in my extended family, I fell in love with holding and playing with babies. Although we all progressed to our teenage years, it was during my Microbiology undergraduate studies that I became acutely aware of the dire maternal, newborn, and child mortality rates in Nigeria. Daily, a significant number of Nigerian women and children succumb to preventable infections and diseases during pregnancy, childbirth, and infancy.
This awareness drove me to pursue medical education in a country grappling with similar healthcare challenges, leading me to study medicine at MHAM College of Medicine, Southwestern University, Cebu, Philippines. Upon graduating, I returned to Nigeria with a mission to combat unnecessary deaths. In a matter of months, I realized that without addressing systemic health barriers, reducing maternal and newborn mortality would remain a distant goal. I concurrently pursued an online Master's in Public Health – specializing in health system management at the University of Liverpool, all while working in Nigeria.
While working for a local NGO, we harnessed the power of Quality Improvement to enhance hospital processes and outcomes. Through this Bill and Melinda Gates-funded project, we achieved remarkable reductions of 34% in maternal deaths and 38% in fresh stillbirths (the death of babies during labour). Yet, I was disheartened by the lack of change in antepartum stillbirth rates (the death of babies in the uterus after 28 weeks of pregnancy but before labour) over the two years. A thorough analysis revealed that the root causes of antepartum stillbirths were deeply embedded in the community. For instance, some women believed in herbal remedies to reduce the size of their babies and ease childbirth, inadvertently endangering their babies due to toxic effects.
For my DPhil, I'm researching community-based prevention strategies that have succeeded in curbing stillbirths in settings akin to Nigeria. By gathering data from women who've experienced stillbirths as well as health workers providing care, and comparing the insights to those generated in settings with successful interventions in similar contexts, I aim to provide actionable recommendations for policy-makers and organisations invested in stillbirth prevention in Nigeria.
Outside of my academic pursuits, I derive immense satisfaction from promoting health. I contribute by educating women of childbearing age on various medical topics related to pregnancy and childbirth through a non-profit organization I co-founded called the Genete Resource Centre for Women.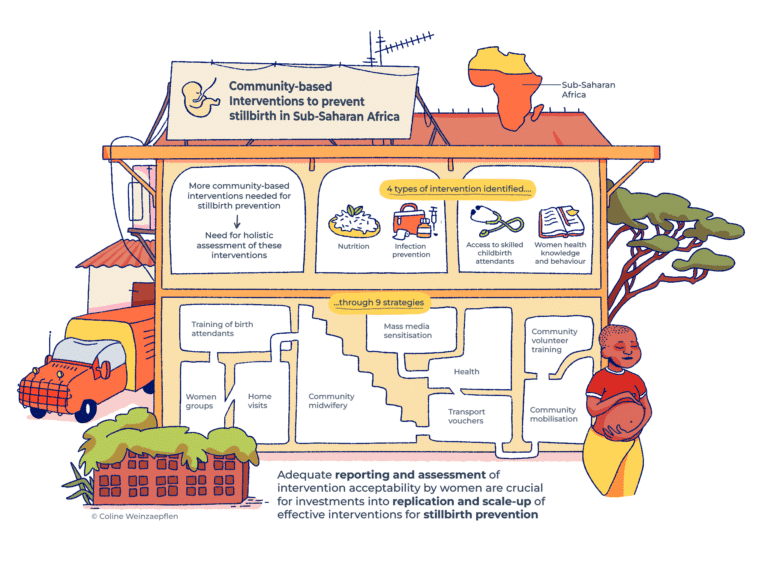 Artwork by Coline Weinzaeopflen.