Tour Victorian Britain as a landscape of vivid colour in a major exhibition at the Ashmolean

Friday 22nd Sep 2023, 10.05am
A major new exhibition at the Ashmolean Museum promises to take visitors on a vibrant journey through the revolution of colour use in Victorian Britain, whilst dispelling some common myths associated with this era.
Victorian Britain, as the vanguard of the Industrial Revolution, can bring to mind a miserable and bleak landscape of cities choked with smog, dark mills and factories.
However, developments in art, science and technology resulted in an explosion of colour that was embraced by artists, designers and ordinary people of the 19th century.
Colour Revolution: Victorian Art, Fashion and Design features 140 objects from international collections including spectacular and flamboyant artworks, costume and design.
This exhibition aims to be a joyous and surprising tour through a period of history that has been misunderstood as bleak or black and white

Matthew Winterbottom, Exhibition Curator
But the scene is set in stark contrast, as the exhibition opens with an evocative object, encapsulating our dark preconceptions of the period: Queen Victoria's mourning dress. Victoria herself spent 40 years in black following Prince Albert's death in 1861. The object label explains how this: 'fixed a morbid image of her in popular imagination.'
Beyond this room, the rest of the exhibition provides evidence of how this iconic representation of Queen Victoria exemplifies ways in which our view of Britain at that time has become skewed.
Matthew Winterbottom, Curator of Sculpture and Decorative Arts and Exhibition Curator, at the Ashmolean Museum, says: 'The exhibition starts in this dark room but then you come out into this world of colour.
'This exhibition aims to be a joyous and surprising tour through a period of history that has been misunderstood as bleak or black and white.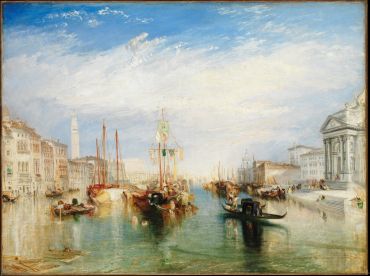 'The Victorian colour revolution made a radical impact on the lives of everyday people throughout Europe and beyond; and this is a chance to see some of the 19th century's most colourful and spectacular works of art, fashion and design.'
Notable exhibits at the start of the exhibition include Venice from the Porch of the Madonna della Salute (about 1835, Joseph Mallord William Turner).
Matthew Winterbottom adds: 'Two paintings of Venice bookend the exhibition. What Colour Revolution sets out to do between these paintings is show what happens to colour between these periods.'
Scientific advances
The galleries explore not just how the use of colour developed alongside scientific and technological revolutions but also the changing moral and ethical thinking about the use of colour.
Madeline Hewitson from the Ashmolean Museum says: 'As science started to take hold, it exerted a great deal of influence on artists and designers but also some anxiety as well. There is a real sense of tension but in fact they were influencing each other.'
Scientific advances were celebrated in one of the most important cultural events of the 19th century, the International Exhibition of 1862, and several objects first shown in this exhibition are on display including The Great Bookcase (1859-52, William Burges).
Revivalist and Pre-Raphaelite artists were working in the context of rapid scientific progress and the popularisation of new scientific ideas by figures like Charles Darwin.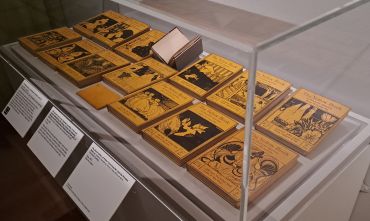 A collection of the The Yellow Book is on display.
Certain 'unnatural' colours were embraced by the 'Decadent' movement – such as the dyed-green carnation sported by Oscar Wilde. Another Decadent favourite was yellow, epitomised by a series of saucy French novels which had distinctive yellow covers. The avant-garde periodical, The Yellow Book, appeared in London in 1894 and you can see a collection as part of the exhibition.
The young woman collapsed on a sofa in Ramon Casas' Decadent young woman, After the dance (1899), is shown holding one of these risqué books (pictured top).
Other notable examples on display from this period include Toulouse-Lautrec's Troupe de Mlle Églantine (1896).
Shocking brilliance
Victorian fashion also demonstrates how the 19th century embraced the products of the Industrial Revolution, expressly through the use of new aniline dyes. While the coal industry blackened Britain's landscape, aniline, a by-product of coal-tar, introduced a rainbow of possibilities to Victorian wardrobes.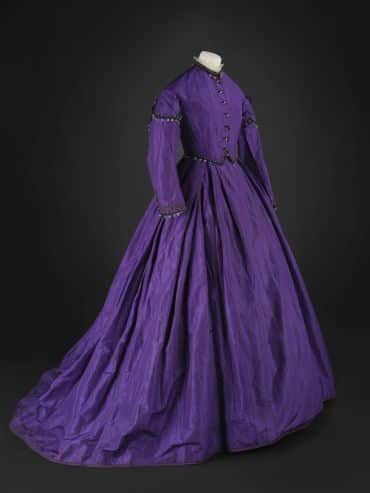 Day dress, English, late-1860s, aniline dyed silk and glass beads. Credit: Manchester Art Gallery.
On display is a purple dress (pictured), crinoline and shoes dyed with the first aniline colour, Mauvine, all retaining their shocking brilliance.
As production increased, the price of dyes reduced, making bright colours available to the masses. Although pigments had been manufactured for thousands of years, the term 'synthetic' is synonymous with the 19th century because of the scale and advances of chemical technology.
Other highlights include works by Dante Gabriel Rossetti, John Ruskin, John Everett Millais, James Abbott McNeill Whistler and Morris & Co.'s elaborate designs.
Also, The Oxford Bust (50-200 CE, head; 1500-1640, bust) and The Wife of Pygmalion: A Translation from the Greek (about 1868) by George Frederic Watts who was inspired by the classical bust when he visited the Ashmolean in 1849 and reimagined it with his painting.
Colour Revolution: Victorian Art, Fashion & Design is open now until 18 February 2024, daily 10:00-17:00. Tickets: £6-£17, available at the Museum or online.
The exhibition is curated by Matthew Winterbottom, Curator of Sculpture and Decorative Arts, Ashmolean Museum, University of Oxford and Professor Charlotte Ribeyrol, Sorbonne Université, Paris.