Oxford students join forces with business to tackle the most pressing challenges of our time

Wednesday 11th Jan 2023, 4.51pm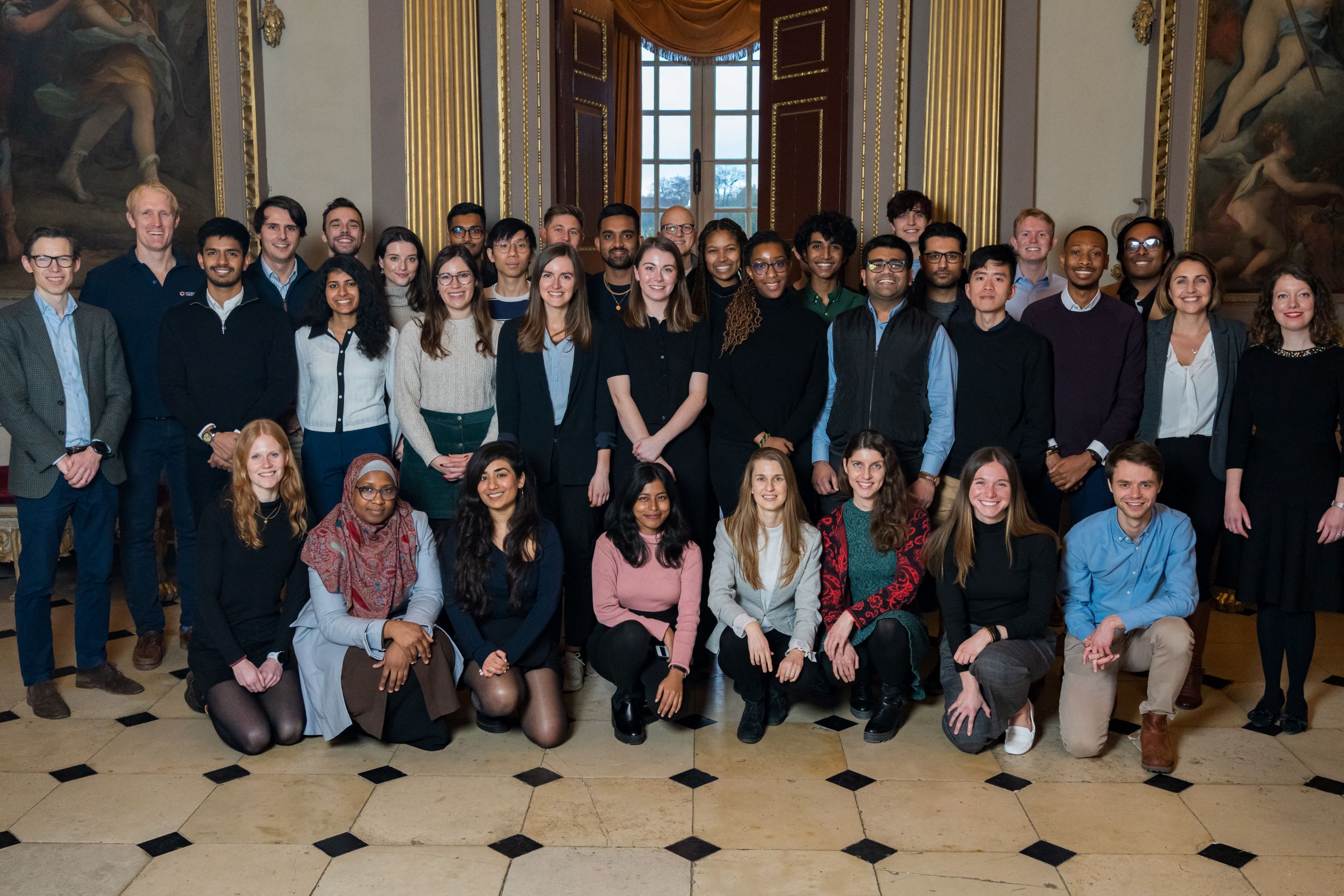 This week sees the launch of two major Oxford SDG Impact Lab programmes in 2023 – the easyJet holidays Sustainable Tourism Programme and the BMW Group Plant Oxford Programme. 35 Oxford students will collaborate with the BMW Group (UK) and easyJet holidays to develop creative solutions to advance the companies' commitment to the UN Sustainable Development Goals (SDG).
Established in 2021, in collaboration with founding partner easyJet holidays, the Lab brings together Oxford's research expertise with partners across sectors to equip students with the skills to deliver real-world change through the UN's 17 SDGs – a global call to action to improve human lives and protect the environment, focusing on tackling issues such as health, education, inequality, and climate change.
Today (12 January), marked the start of a new partnership with BMW Group as 15 Oxford SDG Impact Lab Fellows, all graduate students from across the University, visited the Oxford-based MINI Plant to learn more about the company and meet the team.
As part of the BMW Group Plant Oxford Programme, the Fellows will work on projects focusing on new ways of addressing employee wellbeing, the local Oxford community and the plant's impact on the environment. Students will also gain a unique insight into the manufacturing process and sustainable production. The partnership continues a long-standing association of Oxford University and the Oxford Plant, which was established by William Morris, Lord Nuffield – the founder of Nuffield College, Oxford's first co-educational college, in 1937.'Wence of working with businesses.'
We are incredibly excited to announce our new partnership with the BMW Group, while continuing our work with easyJet holidays. These collaborations offer Oxford students the opportunity to apply their talents to address real-world challenges of both global and local importance, while gaining hands-on experience of working with businesses.

Professor Alexander Betts, Co-Founder of the SDG Impact Lab
With the Lab's founding partner, easyJet holidays, 20 new Oxford SDG Impact Lab Fellows will continue the work started last year to help make easyJet holidays an industry leader on sustainable tourism. They will work with a variety of stakeholders, from local businesses to government officials, NGOs and tourist boards to address challenges in specific Mediterranean tourism destinations, as well as working with governments and the United Nations to advance industry-wide progress.
In 2022, 20 Fellows worked on projects in Tenerife and Majorca, spending four weeks in the destinations undertaking research and developing their ideas. A number of the resulting projects have since been selected by easyJet holidays for implementation, including an artificial intelligence food waste solution which the company intends to pilot with a large hotel resort partner.
Andreas Kindler, CFO of MINI Plant Oxford, said, 'Oxford SDG Impact Lab is an exciting initiative that not only delivers skills for the graduates taking part but will provide us with a fresh perspective, bringing in new ideas and experiences. The plant takes sustainability very seriously, from installing our photovoltaic roofs on our production buildings to implementing innovative ideas such as using recycled tyres in our new road surfaces. Tackling this challenge takes a combination of diverse perspectives and skills – and it's something the BMW Group is famous for and is at the heart of our long tradition of university cooperation.
Today was the MINI Plant Oxford Lab induction Day which saw students learn more about the plant and the team who work here – and we're really looking forward to seeing the impacts of this exciting collaboration.'
Matt Callaghan, easyJet holidays' Director of Customer & Operations, said: 'We're delighted to be continuing our landmark partnership with the Oxford SDG Impact Lab to create a sustainable development goals impact lab to look at tackling some of the big sustainable tourism challenges.
The brilliant research and recommendations we received from Oxford University students has led to us investing in artificial intelligence solutions to help our hotel partners cut their food waste in half. We're the first tour operator to be supporting hotel partners in tracking food waste and offering a real world solution to a problem faced by our entire industry.
We're really excited to see the positive impact that collaboration between our three-year-old holiday business, an 800-year-old academic institution and revolutionary technology can have.'
Find out more about the work of the Oxford SDG Impact Lab here.