Oxford Africa Conference Report 2023 reveals insights to drive transformative journey

Friday 11th Aug 2023, 11.16am
The Oxford Africa Conference explored frameworks for realising Africa's prosperity and addressing the continent's pressing challenges with findings published in a new report, which has just been released.
The 2023 Conference Report explains: 'Against the backdrop of poly-crisis, including security challenges, coup d'états, debt burdens and poverty, the Oxford African Conference 2023 sought an alternative approach to Africa's prosperity. It challenged the rhetoric surrounding poverty reduction, advocating for a shift in the continent's development strategies.'
This report details insightful conversations and should be available to all policymakers, entrepreneurs, and citizens to drive Africa's transformative journey towards a brighter future

Chukwuemeka Nwangele
The event has been one of the largest Africa-focused conferences in Europe for the last ten years, and attracted 300 attendees including distinguished guests in May 2023. Hosted by the Oxford University Africa Society, this year's theme of Africa's Prosperity: A New Approach? addressed pertinent questions on homegrown innovation, enhanced trade and exemplary leadership.
Questions explored included: Is Africa's prosperity achievable? If so, what are the necessary steps to ensure its achievability? How can Africa drive the best sustainable development outcomes?
Read the full 2023 Oxford Africa Conference Report here.
A catalyst for Africa
'Africa wields power to shape its destiny by embracing its many opportunities amidst its multiple challenges,' said Chukwuemeka Nwangele, a DPhil candidate, co-convener of the Oxford Africa Conference and President of the Oxford Africa Society at Oxford University at the time of the event.
'Given Africa's undeniable challenges, the well-attended conference ignited hope for the continent's prosperity. Across various disciplines, expert and research insights stressed a holistic approach to progressivism, heralding hope that we can take collective action. This report details insightful conversations and should be available to all policymakers, entrepreneurs, and citizens to drive Africa's transformative journey towards a brighter future.'
Renowned entrepreneurs Sir Mo Ibrahim, Aigboje Aig-Imoukhuede and Abdul Samad Rabiu were joined by distinguished African public sector leaders such as Ambassador Sena Siaw-Boateng, Ambassador of Ghana to the Kingdom of Belgium and the European Union, and Kamissa Camara, current doctoral student at the University of Oxford and former Foreign Affairs Minister of Mali.
They examined the roles of Africa's governance and foreign relations in Africa's advancement, with a call to harness the power of enterprise and homegrown innovation enabled by good governance.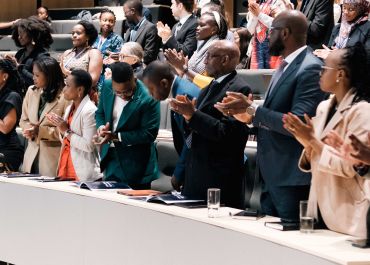 They argued that by actively supporting entrepreneurship and facilitating strategic domestic and international trade, the financial services industry could be a catalyst for Africa's competitive advantage.
Extracts from the report
Africa's diaspora is now at the forefront of leading innovations, using their intellects to address pressing needs. Diaspora funding is less of a trojan horse compared to debts from international funders. It enables the efficient use of resources while strengthening local currencies and boosting economies. Deployed judiciously, foreign investments and diaspora remittances form building blocks for development.
Leveraging innovation and entrepreneurship to drive prosperity, the 'pull approach', may be crucial. An example is the visionary work of Sir Mo Ibrahim in the 1980s. By establishing Celtel, he converted what was initially considered an un-investable market into a critical economic sector.
For African innovation to thrive, a comprehensive review of the international funding framework is necessary for a conducive environment. The trust deficit between African companies and funding institutions, customers, and governments also poses a challenge.
Africa can drive significant value by converting its vast raw materials to finished product

Abdul Samad Rabiu
There is an opportunity for Africa to take the driver's seat in the endeavour towards African prosperity through intra-continental and more strategic international trade. By trading, Africa can gain a competitive advantage and ultimately add value to primary goods rather than maintain its long history of exporting raw materials and importing those same materials back for resale after they are processed, altered, or enhanced by non-African countries.
By adopting the African Continental Free Trade Area (AfCFTA), the African continent can trade amongst member countries and reduce exposure to continent external trade shocks. The policy presents an opportunity to unite Africa through infrastructure, creating a sizeable economic player globally with much more influence than any single country.
The visionary work of Tunde Onakoya and Chess in Slums Africa provided a powerful example of leveraging unconventional strategies to empower underserved communities and strengthen human capital endowment. Using chess as a tool, children are equipped with valuable skills and instilled with resilience and strategic thinking abilities crucial for their future employability. Such initiatives should be expanded in capacity and geographical reach, ensuring that Africa's 98 million out-of-school children have transformative opportunities.
Find out more about the Conference here: Oxford Africa Conference | AfriSoc 2023
Oxford Africa Conference 2023 team (comprising Oxford University graduate students): Chukwuemeka Godwin Nwangele (President, Oxford University Africa Society); Varun Shankar; Lisha Jeena; Adeola Fayemiwo; Jeremiah John Enoch; Elizabeth Abubakar; Ruth Nanjala; Gloria Wawira; Lynnie Ngugi; Olivia Ayim; Adebisi Adenipekun; Tichinashe Mabugu; Charden Moutsouka; Luena Ricardo.