New tool uses existing health records to predict people's risk of developing lung cancer within the next 10 years

Wednesday 5th Apr 2023, 1.36pm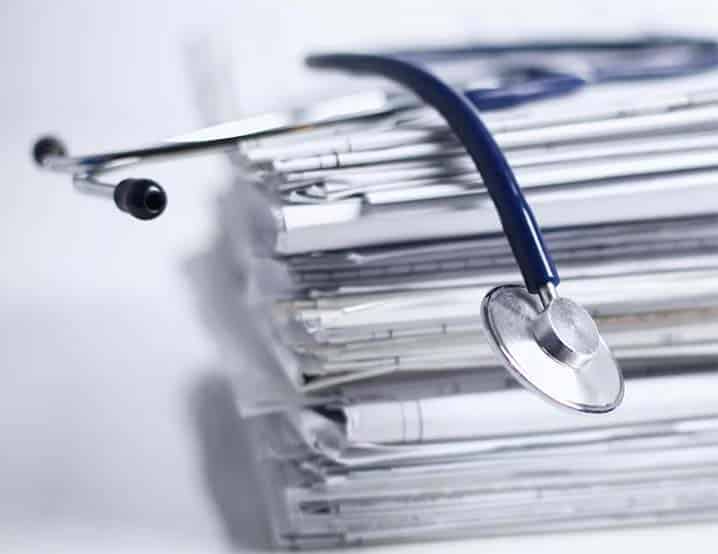 Writing in the journal Lancet Respiratory Medicine, the researchers developed and tested the tool using the anonymised health records of over 19 million adults from across the UK.
Lung cancer is the second most common cancer in incidence and the leading cause of cancer deaths worldwide. However, lung cancer screening – 'catching it early' – has been shown to improve survival rates. Because of this, in September 2022 the UK National Screening Committee recommended using targeted lung cancer screening. However, the committee did not recommend which tools would best be used for targeting screening at people most at risk.
Professor Fergus Gleeson, co-author of the study and Professor of Radiology in the Department of Oncology at the University of Oxford, said: 'Around 48,500 people are diagnosed with lung cancer each year in the UK. In its early stages, there are usually no obvious signs or symptoms, and it can go undetected for some time. Using a technique called low-dose computerised tomography (CT) for lung cancer screening we can catch this disease and treat it earlier, and that improves people's outcomes.
'However, this type of screening isn't something we can do en masse for the population, we need a way to target those at the greatest risk and put them forward for screening.
'Current methods to target screening rely on doctors recognising high-risk individuals or using tools based on using patient questionnaires to score risk and put those at highest forward.'
Dr Weiqi Liao, lead author on the publication and a data scientist in the Nuffield Department of Primary Care Health Sciences, University of Oxford, said: 'Our tool, CanPredict, works by examining existing patient health records, so it could be run on a per GP surgery basis or nationally, automatically and objectively prioritising patients and alerting their GPs that they might benefit from further screening.
'Because of this, CanPredict has the potential to substantially reduce the burden on NHS staff, saving time, money and streamlining the administrative process for better patient experience.'
To develop the new tool the researchers used two separate sets of health record data. Using the QResearch Database (which, in total, contains the anonymised health records of over 35 million patients, spanning all ethnicities and social groups across the UK) to identify 13 million people aged between 25 to 84 among whom 73,380 had a diagnosis of lung cancer. They then looked back through their health records to identify common factors which might be used to statistically predict their risk of developing the cancer. Factors such as smoking, age, ethnicity, body mass index, medical conditions and social deprivation (and others) were considered as part of the analysis.
Once the tool was developed, the researchers needed to test it. They did this using a separate set of anonymised GP health records – the Clinical Practice Research Datalink (CPRD).
The researchers used the CPRD data (which contained data from an additional 2.54 million people's anonymised health records) to see which people their new tool predicted were at the greatest risk of developing lung cancer, and then compared this to those who did go on to develop lung cancer.
The new CanPredict tool correctly identified more people who went on to develop lung cancer and was more sensitive than current recommended methods of predicting risk, across 5-, 6-, and 10-year forecasts.
Professor Julia Hippisley-Cox, senior author and Professor of Clinical Epidemiology and General Practice and the Nuffield Department of Primary Care Health Sciences, University of Oxford, said: 'Improving early diagnosis of lung cancer is incredibly important both for the NHS but especially for patients and their families. We hope that this new validated risk tool will help better prioritise patients for screening and ultimately help spot lung cancer earlier when treatments are more likely to help. We'd like to thank the many thousands of GPs who have shared anonymised data for research without whom this would not have been possible.'
The researchers plan to make the tool publicly available for use, subject to further funding for implementation in day-to-day practice and to ensure Medicines and Healthcare Products Regulatory Agency (MHRA) medical device compliance.
The full paper, 'Predicting the future risk of lung cancer: development, and internal and external validation of the CanPredict (lung) model in 19•67 million people and evaluation of model performance against seven other risk prediction models', can be read in The Lancet Respiratory Medicine.