New Centre for Energy Materials Research officially launched

Wednesday 10th May 2023, 10.55am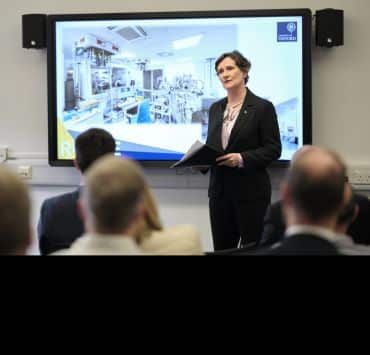 Spread over five floors of the recently refurbished Rex Richards Building, the CEMR will bring together experimental and computational scientists working on different aspects of energy storage and conversion. With an extensive range of synthesis, characterisation, and analytical equipment, the facility will enable a highly interdisciplinary approach to energy materials research. Central to this is the ability to handle and process materials under an inert atmosphere, since many energy-related materials react with the oxygen and water present in air.
Speaking at the launch event yesterday, Professor Irene Tracey, Vice-Chancellor of the University of Oxford, said: 'I'm delighted to attend the official opening of this wonderful new centre that is doing ground-breaking research to address some of the pressing challenges in the energy sector. Our future energy needs must be met in ways that consider natural resources and human welfare. And the University's substantial research strengths cover the many disciplines which are needed to ensure a just and fair energy transition for us in the UK and globally. This capability enables vital collaborations, from access for SMEs to major partnerships with industry and other institutions. I wish my colleagues every success in this vitally important endeavour.'
A particular focus for the CEMR will be energy storage technologies. The University of Oxford has a strong and growing battery research community, and is playing a leading role in several major battery-related projects supported by the Faraday Institution. The CEMR's new capabilities could lead to significant advances from a broad range of projects working to deliver the electrochemical storage devices of the future. Ultimately, such breakthroughs will help produce batteries with higher energy densities, improved safety, and lower cost. The CEMR will support all aspects of battery research, ranging from the synthesis of new materials under tightly-controlled conditions to advanced characterisation techniques to study structural re-arrangement on the atomic scale.
As an example, the Centre will help to advance the work of Professor Sir Peter Bruce and Professor Mauro Pasta on understanding the material properties and mechanisms that cause solid-state batteries to short-circuit and fail, a crucial step towards realising the commercial potential of this technology.  
The Centre for Energy Materials Research is undoubtedly one of the UK's centres of excellence not just in fundamental battery research but in bringing scientific rigour to overcome manufacturing challenges in commercial use today. Its range of facilities and researcher base make it a go-to place for a diverse range of energy storage research – from solid-state, to cathode materials, electrode manufacturing to new characterisation techniques.

Professor Pam Thomas, CEO The Faraday Institution.
The Centre will also help tackle the issue of sustainably sourcing key materials in the battery supply chain whilst minimising their environmental impact. This includes projects to explore alternatives to the critically constrained elements lithium and cobalt, such as the work led by Professor Saiful Islam, Professor Sir Peter Bruce, and Dr Robert House on the potential of energy storage chemistries based on earth-abundant elements, such as sodium, manganese, magnesium, and iron.
Meanwhile, Associate Professor Robert Weatherup uses advanced modelling and characterisation techniques to understand how and why lithium-ion batteries degrade over time. Applying this knowledge could help extend battery life, reduce battery costs, and facilitate rapid charging of electric vehicle batteries.
Professor Weatherup said: 'The world-leading capabilities available in the CEMR for producing, handling, and characterising energy materials have really helped accelerate our research on understanding lithium-ion battery degradation and developing new catalysts for converting waste carbon dioxide to useful chemicals. We're particularly fortunate to have a suite of cutting-edge X-ray characterisation capabilities, that allow us to look at the processes occurring in these materials during operation, helping to better understand the origins of their performance.'
I am delighted to be part of the official opening of the Centre for Energy Materials Research. It is a fantastic opportunity to acknowledge the exciting research projects being carried out in the new facility including the development of advanced modelling methods and the atomic-scale studies of energy materials for next-generation lithium batteries and solar cells.

Professor Saiful Islam, Director of the Materials Modelling Laboratory in the Department of Materials
Besides the University of Oxford's research community, many of the CEMR's facilities are available to researchers at partner institutions and in industry through the Henry Royce Institute. The CEMR will also play a key role in educating the materials scientists of tomorrow, by providing a dedicated space for DPhil students to work closely with leading academics, receive training, and gain hands-on experience in a range of techniques.
The launch event was attended by representatives from a range of industry, policy, and research organisations. After the formal opening by Professor Irene Tracey, guests had the opportunity to tour the facilities and learn more about the research that will take place there.
Professor Paul Monks, Chief Scientific Adviser for the Department for Energy Security and Net Zero, said: 'The Centre for Energy Materials Research houses state-of-the facilities which will play an important role in the development of next generation energy storage materials. The world-leading research carried out here will underpin the new storage technologies required to tackle climate change and I look forward to hearing about these advances. This is an excellent example of how funding from UKRI is being used to support collaborative research.'
The CEMR was possible by funding from UKRI, the Henry Royce Institute, the Faraday Institution, the Wolfson Foundation and the University of Oxford.