Honorary degree recipients for 2023 announced

Thursday 27th Apr 2023, 10.00am
At the Encaenia ceremony, degrees will be awarded to Professor Frances Arnold, Michelle Bachelet, Lyse Doucet, Professor Stephen Furber, Professor Paul Gilroy, Val McDermid, Professor Malik Peiris and Professor Sir Simon Schama.
Ticket registration is now open for staff, Congregation, students, Oxford University alumni, retired members of Congregation and academic visitors. We are sorry that tickets to the ceremony are not available to members of the public.
Professor Frances Arnold
Professor Frances Arnold is an American chemical engineer and Nobel Prize laureate. She is the Linus Pauling Professor of Chemical Engineering, Bioengineering and Biochemistry at the California Institute of Technology. Professor Arnold was born and raised in Pittsburgh, Pennsylvania, and received her BS in Mechanical and Aerospace Engineering from Princeton University and her PhD in Chemical Engineering from the University of California at Berkeley. In 2018, Professor Arnold received the Nobel Prize in Chemistry for pioneering directed evolution methods used to make enzymes for applications in sustainable chemistry across medicine, consumer products, agriculture, fuels and chemicals. Professor Arnold has been elected to the US National Academies of Science, Medicine and Engineering. She is also an International Fellow of the Royal Society, the Royal Academy of Engineering and the Royal Society of Chemistry in the UK.
Michelle Bachelet
Michelle Bachelet was born in Santiago, Chile, and most recently served as the United Nations' High Commissioner for Human Rights (2018–22). Bachelet was President of Chile 2006–10 and 2014–18. As president, Bachelet cites among her notable achievements saving billions of dollars in revenues to spend on pension reform, which guaranteed a programme of social protections for women and children. Under her leadership, marine protected areas were created, leading to a tenfold increase in marine conservation, and renewable energy production was increased. Bachelet also held ministerial portfolios in the Chilean Government as Minister of Health (2000-–2) and Minister of Defence (2002–4). In 2011, she was named the first Executive Director of the newly established United Nations Entity for Gender Equality and the Empowerment of Women.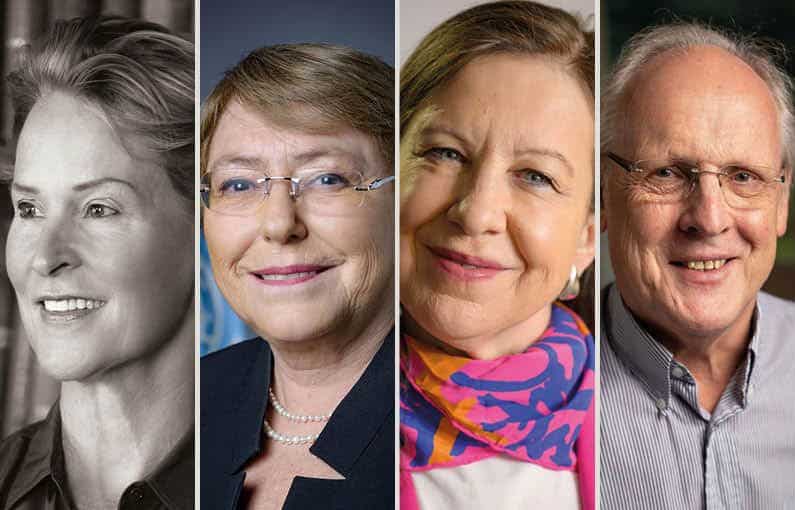 Left to right: Professor Frances Arnold; Michelle Bachelet; Lyse Doucet; Professor Stephen Furber.
Lyse Doucet
Lyse Doucet, CM, OBE, is the BBC's Chief International Correspondent. Regularly deployed to anchor special news coverage from the field, in the past year she has spent much of her time in Ukraine reporting on the Russian invasion and in Afghanistan covering events since the return of the Taliban. Doucet spent 15 years as a BBC foreign correspondent with postings in Jerusalem, Amman, Tehran, Islamabad, Kabul and Abidjan. Her journalism has been recognised by multiple awards, including the Hay Festival Medal for Journalism (2022), and the London Press Club's Broadcast Journalist of the Year (2021). She was part of the BBC team which this year won a Royal Television Award (RTS) for International News Coverage for reporting from Ukraine.
Professor Stephen Furber
Stephen (Steve) Furber, CBE, FRS, FREng, is the ICL (International Computers Limited) Professor of Computer Engineering in the Department of Computer Science at the University of Manchester. In 2008 he was appointed CBE for services to computer science. After completing a BA in Mathematics and a PhD in Aerodynamics at the University of Cambridge, Manchester-born Professor Furber spent the 1980s at Acorn Computers where he was a principal designer of the BBC Microcomputer and the ARM 32-bit RISC microprocessor. He moved to the ICL Chair at Manchester in 1990 where he leads research into asynchronous and low-power systems and, more recently, neural systems engineering. He is a fellow of the Royal Academy of Engineering and the Royal Society, and a distinguished fellow of the British Computer Society.
Professor Paul Gilroy
Professor Paul Gilroy is a cultural and social theorist. He is the Professor of Humanities at University College London and founding director of the UCL Sarah Parker Remond Centre for the Study of Racism and Racialisation. London-born Professor Gilroy has held professorships in the UK and the US, and lectured all over the world. His books and other publications have been translated into 12 languages. Alongside academia, Professor Gilroy is a curator, critic, journalist, researcher and musician. He is a fellow of the British Academy, the Royal Society of Literature and the US Academy of Arts and Sciences. He was awarded Norway's Holberg Prize and holds honorary doctorates from Goldsmiths College, Sussex University, the University of Liège and the University of Copenhagen.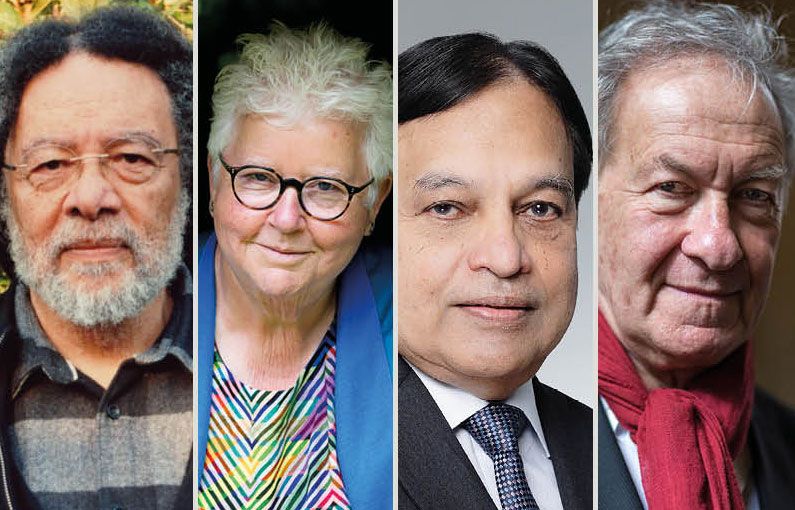 Left to right: Professor Paul Gilroy; Val McDermid; Professor Malik Peiris; Professor Sir Simon Schama.
Val McDermid
Val McDermid, FRSE, FRSL, was born in Kirkcaldy, Fife. She read English at St Hilda's College, Oxford, and after graduating in 1972 began her award-winning career in journalism. She quit newspapers to write full time in 1991 and is now a number-one bestseller whose novels have been translated into more than 40 languages and have sold over 18 million copies. Past Lying, due to be published in 2023, is her 39th novel. She has published short story collections, non-fiction books, a graphic novel and a children's book, and written for the theatre and radio. Several of her novels have been adapted for TV. She has won many awards internationally, is a Fellow of both the Royal Society of Literature and the Royal Society of Edinburgh and is Patron of the Scottish Book Trust.
Professor Malik Peiris
Malik Peiris, SBS, FRS, FRCP, FRCPath, FFPH, is Professor of Virology at the School of Public Health, University of Hong Kong, with a particular interest in emerging virus disease. He played a key role in identifying the novel coronavirus that caused SARS in 2003, contributing to its diagnosis and containment. Professor Peiris was born in Kandy, Sri Lanka. He received a Commonwealth Scholarship to study virology at the Sir William Dunn School of Pathology, University of Oxford, where he was awarded a DPhil in 1981. Following his appointment to develop clinical virology services at the Queen Mary Hospital, Hong Kong, this new laboratory was at the forefront of responses to outbreaks of avian influenza (1997), SARS (2003) and the influenza pandemic (2009). Professor Peiris is a Fellow of the Royal Society of London and aForeign Associate of the National Academy of Sciences, and was awarded the Silver Bauhinia Star (Hong Kong SAR).
Professor Sir Simon Schama
London-born historian Sir Simon Schama, CBE, FBA, FRHistS, FRSL, is University Professor of Art History and History at Columbia University, New York. He is also a contributing editor of the Financial Times. He is the author of 19 books, and the writer-presenter of 60 documentaries on art, history and literature for BBC television. Most recently his History of Now series aired on BBC2 in 2022. His award-winning series include A History of Britain and The Power of Art, which won an International Emmy for the episode on Bernini. Sir Simon has been awarded numerous prizes and honours and his work has been translated into 15 languages. His 20th and most recent book, Foreign Bodies: Pandemics, Vaccines and the Health of Nations, was published in May 2023.