Global impact of Oxford University Innovation highlighted in new report

Friday 13th Oct 2023, 10.23am
Greater transparency and data on OUI's research commercialisation efforts will help unlock a more diverse range of investors and attract crucial seed funding and later stage scale-up funding for university spinouts, start-us and social ventures.

Baroness Nicola Blackwood

Nicola Blackwood
The report, which OUI plans to build on and release annually, offers a blueprint for harmonising impact measurement and reporting for university innovation hubs and technology transfer offices (TTOs) across the UK.
Baroness Nicola Blackwood, Chair of Oxford University Innovation, said: "There are well established standards for reporting financial and ESG performance in the corporate world, but there is no equivalent framework when it comes to the commercialisation of university Intellectual Property."
Companies created by OUI amassed £730.8m in venture investment over the past year (August 2022 – July 2023). This included £71m for Osler Diagnostics, a biotech company delivering revolutionary diagnostics by identifying a range of diseases from a single prick of blood; and £40m for Quantum Motion, a company spearheading silicon-based quantum computers. 
The thriving innovation culture at the University of Oxford saw the creation of twenty new companies within the same timeframe, escalating the total count to a UK record-breaking 300 in April of this year.
Together with partners across the Oxford ecosystem, University-led innovation activity and OUI-backed companies are helping to support the creation of over 28,000 jobs and £3.4bn of economic impact in the UK annually.
Fifty-eight spinout companies provided preliminary metrics on their social and economic impact for the inaugural report, with 90% addressing an unmet need highlighted by the UN Sustainable Development Goals. Highlights include:
OUI has used the UN Sustainable Development Goals (SDGs) as a framework to measure impact. In the report, OUI maps companies' commitment to delivering on the SDGs, and explains how OUI's work with university partners, investors and industry will support delivery.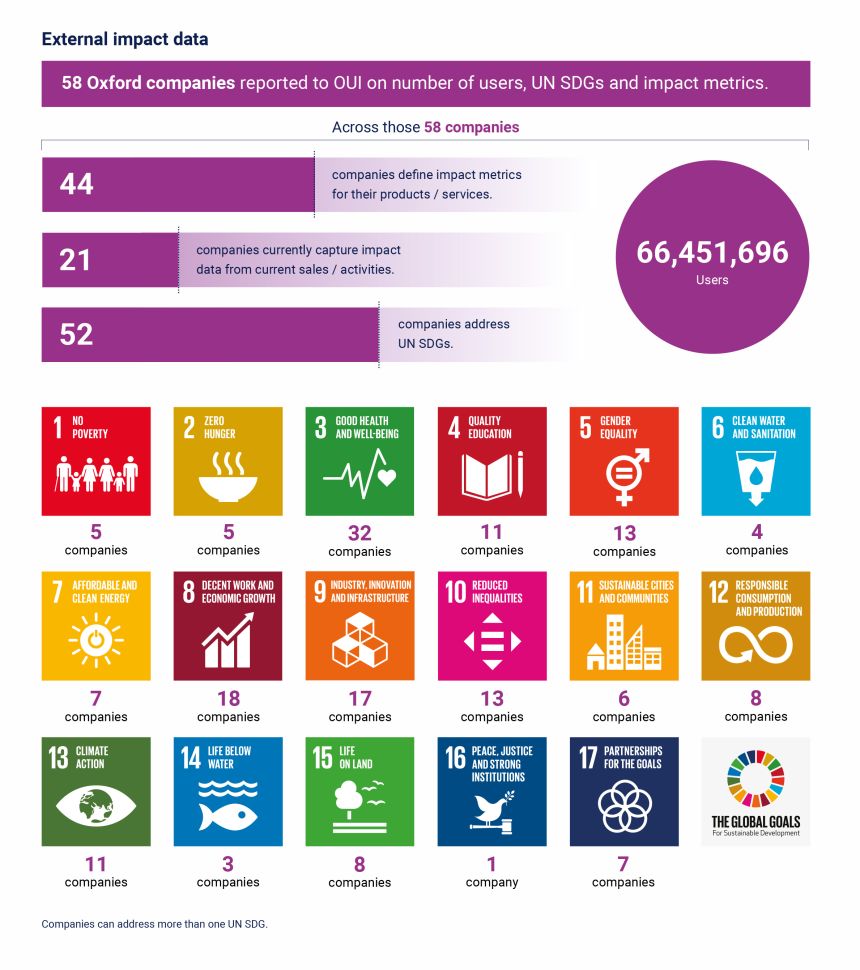 External impact data
Of 58 survey responses, 52 Oxford companies address the UN SDGs. 32 are working on good health and wellbeing; 11 are working in the area of climate action; and 17 in industry, innovation and infrastructure. 
The Oxford-AstraZeneca collaboration to produce the COVID-19 vaccine epitomises the monumental health innovation fostered at Oxford, with three billion doses administered across 180 countries by the close of 2022, averting an estimated 122.4 million hospitalisations and saving over six million lives. The vaccine was developed jointly by the University of Oxford spinout Vaccitech and the University's Jenner Institute.
The report also includes some preliminary impact metrics from OUI's clinical outcomes portfolio, identifying 7.5 million patients who have been given a voice through Clinical Outcome Assessments. An analysis of OUI's 652 consulting service agreements between academics, industry and government shows that 383 companies have been supported by consulting work across 29 countries (August 2022 – July 2023).
Baroness Nicola Blackwood said: "Our inaugural impact report provides a snapshot of the transformative social and economic impact of Oxford University-inspired innovation; there is more we can analyse and report to strengthen the opportunities we develop with our academics, investors, government partners and industry. The report should be considered the first step on a journey towards a more comprehensive impact reporting framework for university innovation. We look forward to building on what we've developed in the coming months with input from our TTO partners in the UK, US and beyond."