First students on Oxford's new Foundation Year begin their studies

Tuesday 3rd Oct 2023, 11.41am
Oxford's innovative new access programme, the Astrophoria Foundation Year, has got underway as a new academic year begins. 
Twenty-two young people from across the UK are the first students on the programme, which provides a fully funded one-year course and is designed to help bridge the gap between A-levels and the challenging undergraduate degrees at Oxford.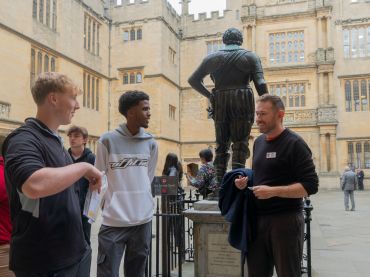 A University Librarian gives Astrophoria students a tour around the Bodleian
The students were officially welcomed to Oxford by the University's Vice-Chancellor, Professor Irene Tracey, as part of their Orientation Week. Among the planned activities were tours of some of the University's study facilities, including the Bodleian Library, sessions on how the University works and topics such as wellbeing and financial planning, as well as plenty of opportunities to socialise and get to know their fellow students.
Dr Jo Begbie, Astrophoria Foundation Year Director, said: 'I am delighted to welcome the first cohort of Astrophoria Foundation Year students to Oxford. It has been fantastic to meet them all in person and I hope that the orientation week has given them opportunities to make new friends and a chance to see what Oxford has to offer, from the incredible libraries and museums, to getting a taste of college life. I'm sure it has set them up for a great first term and I look forward to following their journeys over the coming year.'
One of this year's Foundation Year students, Iman, who comes from Bradford and is studying PPE, said: 'I think the orientation week has shocked me a bit because everyone on this course is coming from a similar position. A lot of the concerns I have had about fitting in, like whether I belong in Oxford and on the course, I'm glad I've heard it from all the people around me this week.
'I'm looking forward to the academic side obviously. To actually learn about economics, because I love economics. I'm also enjoying meeting new people and exploring Oxford. Compared to Bradford it's a quieter city and I think I'll feel quite at home here.'
Victoria, from London, is studying History and said: 'I'm really looking forward to the tutorials. Where I came from the culture was very anti-intellectual, there was no one reall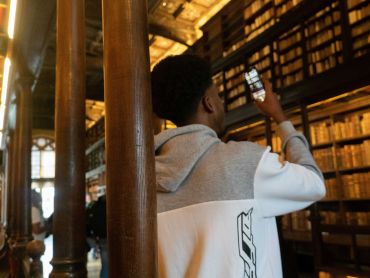 An Astrophoria student touring the inside of the Bodleian
y to talk to about the things I'm interested in but now in this space the whole point is that I am trying to develop these skills so that I can talk about things I care about.'
The Astrophoria Foundation Year was launched last year for UK state school students who have experienced disadvantage or disruption during their education and is part of the University of Oxford's efforts to increase participation from students from underrepresented and disadvantaged backgrounds.
Students are studying one of four foundation courses; Humanities (Classics, History, English and Theology); Chemistry, Engineering and Materials Science; Philosophy, Politics and Economics (PPE); or Law, as well as Preparation for Undergraduate Study modules, and receive free tuition and accommodation, as well as a non-repayable bursary to cover their living costs.
Find out more about the Astrophoria Foundation Year here.