Collaboration with Formula 1 to offer Engineering Scholarships at Oxford extended until 2025

Tuesday 1st Aug 2023, 10.15am
The University of Oxford is continuing a partnership with Formula 1 to offer scholarships to talented undergraduate engineering students from under-represented backgrounds for a further three years.
The Formula 1 Engineering Scholarship Programme was first announced by Formula 1 in 2020, with the first scholars commencing their studies in 2021, as part of its pledge to increase diversity and inclusion in the motorsports industry, and sees Formula 1 support two students each year for the duration of their degrees.
Oxford was one of six inaugural partner universities to benefit from the establishment of the initiative, which has so far enabled it to provide four fully funded scholarships to students undertaking the MEng in Engineering Science course.
Following the initial success of the programme, the collaboration has been extended with a number of universities including Oxford, which will award a further six scholarships: two annually, up to and including the 2025/26 academic year.
We know that the scholarships are making a huge difference 

Professor Ron Roy, Head of the Department of Engineering Science
Professor Ron Roy, Head of the Department of Engineering Science, said: 'We are delighted that Formula 1's generous contribution means we can continue to help talented students from under-represented backgrounds to benefit from a first-class engineering education at Oxford. We know that the scholarships are making a huge difference to undergraduates' lives, enabling them to concentrate on their studies and participate fully in the Oxford experience. We are grateful to Formula 1 for supporting our aim to make engineering at Oxford – and beyond – more inclusive, diverse and representative of the wider population.'
As before, each new scholar will receive the full cost of their tuition, together with a living stipend, for the duration of their four-year degree. They will also have the opportunity to undertake work experience with one of the ten Formula 1 teams during their second year of study.
Massive impact
Second-year undergraduate Sean was one of the first students to receive a Formula 1 Engineering Scholarship at Oxford, having previously attended a state-funded Academy Trust selective school in Warwickshire. He said: 'This scholarship has a massive impact on my life.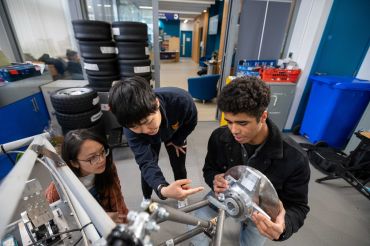 'It means that I do not have to stress about my financial situation, which allows me to concentrate on making the most of my university experience. I can dedicate more quality time to my studies and it allows me to get involved in various events and opportunities from sport to socialising, without worrying about the financial aspect.'
Fabbiha, who also joined Oxford as a Formula 1 Scholar in 2021, added: 'I cannot express what this scholarship programme means to me. Not only does it provide me with financial freedom to try my best at engineering, but more than that, it provides me with the skills and information I will need beyond university to do well.'
Stefano Domenicali, President and CEO of Formula 1, said: 'We are incredibly pleased that F1 will continue to offer the Formula 1 Engineering Scholarship to promising students from under-represented groups. Formula 1 is all about taking direct action to make lasting change. Since Chase Carey's generous donation in 2020, we have expanded the scholarship programme and now provide financial and career support to 20 students. We will continue to honour our commitment to increasing diversity within our incredible sport and providing opportunities to the next generation of talented students.'
Oxford's Formula 1 Engineering Scholarships are open to Black and minority ethnic undergraduate offer holders from low-income UK households, and an independent selection process is used to determine the recipients.
Visit the Department of Engineering Science website to learn more about the MEng in Engineering Science and read an interview with Formula 1 Scholar Sean.
Information about applying to Oxford, including an application timetable for 2024 entry, can be found on the University's undergraduate admissions pages.