A-level results: Congratulations to Oxford's new students

Thursday 17th Aug 2023, 2.28pm
Thousands of students from across the UK have been celebrating their exam results. The University of Oxford is delighted to congratulate the many students who have successfully met their Oxford offer, and whose places have been confirmed. 
Oxford's Vice-Chancellor, Professor Irene Tracey, said, 'Congratulations to all students who have received their results, particularly those who have had their offers to study at Oxford confirmed. We know that a considerable amount of hard work and dedication has got you to this point, and you should be rightly proud of your achievements. We look forward to welcoming you in October, and sharing everything Oxford has to offer.'
Here we meet some of the students who will soon be joining us at Oxford.
Adzor and Lloyd from South London are 18 and attended The Elms Academy in Clapham. They both achieved three A* in their A-levels. Adzor studied Mathematics, Chemistry, and Physics and will be joining Oriel College to study Chemistry. Lloyd will be studying Mathematics at Exeter College, having gained A-levels in Mathematics, Further Maths, and Physics.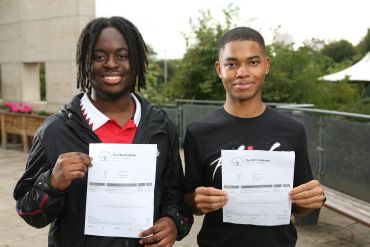 Adzor said, 'I feel ecstatic and proud that I have achieved three A*s and that all the hard work has paid off. I am grateful for all the help that my teachers have given me over the past two years. Oxford is one of the best universities in the world.
'Initially I was not considering Oxford as an option but after receiving feedback about my academic achievements, I realised that it was a route that I could take. Attending a residential at the University made me realise this was where I wanted to be. Throughout my A-level studies I have developed a love for Chemistry and am delighted that I can continue learning more at Oxford. I can't wait to start at Oxford. In particular I am looking forward to experiencing the world-class teaching style that Oxford is known for.'
Lloyd said, 'I am so happy to have gained three A*s. I am very grateful for the guidance and support I have received from various teachers at my school. Oxford is an incredible university where world renowned mathematicians have studied. I am excited to follow in their footsteps. I am looking forward to meeting new people, learning new ideas and skills and be in the presence of like-minded individuals.'
Samrawit is 18 and studied at the Harris Academy, Merton in London.  She achieved three A*s in Chemistry, Physics and Maths and will be continuing her studies in Chemistry at Wadham College.
Samrawit, said 'I'm ecstatic! I am so relieved that all my hard work has paid off and that my offer has finally been confirmed. I applied to Wadham College because it seems to have the perfect balance between hard work and a close community. I can't wait to become a Wadhamite! I'm looking forward to the tutorial system and unmatched support I will receive at Oxford. Being surrounded by others who share the same passion for their subjects will be wonderful.'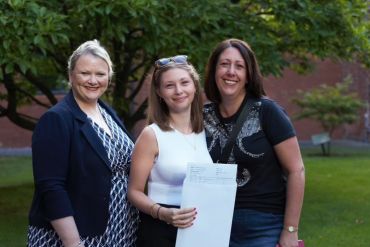 Eve on results day with her Mum and the Head Mistress of Manchester High School
Eve from Manchester is 17 and attended Manchester High School for Girls for Sixth Form, where she studied Maths, Further Maths and Music, achieving one A* and two As.  She will be reading Music at Lady Margret Hall from October.
Eve said, 'I was over the moon to receive my results today, and absolutely thrilled to have met my offer for Oxford. I was quite ill in the weeks prior to my A-level exams so to have achieved the grades I needed was a dream. Music has always been a love and fascination of mine, choosing to apply to Oxford to study it was an awe-inspiring prospect as I relish the opportunity to come into contact with the knowledge of experts and world leaders of research in my subject. I am most looking forward to starting a new chapter in the amazing City of Spires, immersing myself in the college system, and throwing myself into studying the subject I am most passionate about.'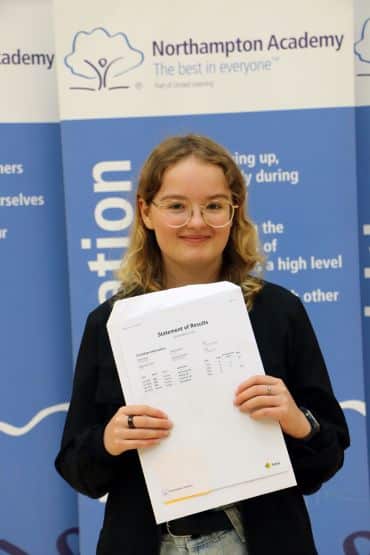 Julia
is an 18-year-old student at Northampton Academy. She studied Chemistry, Biology, Psychology and Photography at A-level and got four A*s. She will studying for a Masters in Biomedical Sciences at St. Edmund Hall.
Julia said, 'I'm really happy with my results, it all feels like a very satisfying end to my sixth form experience and I'm happy to have a confirmed place at Oxford. I was drawn to Oxford because of all of the academic opportunities there, the leading facilities and the teaching methods which aren't like other universities. I also like how the biomedical sciences degree allows you to specialise in later years, and the modules seem very interesting and flexible. I'm most looking forward to meeting new people with similar interests and being able to learn from all of the staff at Oxford.'